The present vinyl album is the third 33-rpm LP ever published by the Odeon label in Buenos Aires at the beginning of the year 1953. It contains 8 titles and is still in the old 10″ format with 4 tracks per side. In his Pugliese Discography Nicolás Lefcovich considers these recordings as to be controversial and states that they were never recorded. As a matter of fact Osvaldo Pugliese rarely recorded the same tango twice. The recordings on this record are so called "take 2" recordings and were actually made at the end of the year 1952, on 5 different session days. At the Odeon label, "take 2" are expressed as an added number to the matrix number separated by a forward slash, like: 16421/1. In this system which starts counting with 0, 16421 is take 1, 16421/1 is take 2, etc. Because Osvaldo Pugliese and also some members of his orchestra did not remember these sessions, Lefcovich thought that these recordings might have been done "artifically". Later, Oscar Del Priore remembered that the Pugliese orchestra made these second take sessions precisely in order to get them on tape for this third Odeon vinyl pressing. The reason for these repeated recording sessions within a few months lays in the fact that a vinyl record needs a tape master and the prior recordings were still before the advent of the new vinyl technology at Odeon. With the present record at hand, which contains all 8 "controversial" recordings, the situation becomes much clearer to understand.
As we also have all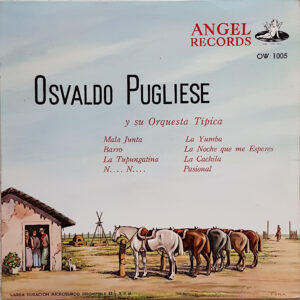 the corresponding shellac records, we can confirm that the shellacs are all "take one" issues with the exception of the record "N.N. 55521 16421/1 and La Yumba 55521 15758/1″ (/1 means "take 2" at Odeon) which must have been reissued at around the same time as the vinyl in the "take two" version.
Parts of these titles were also published by DECCA, a North American Odeon partner company, for the US market, most likely also around the year 1953. This record is called "Argentine Nights". The same record as Odeon LDS 103, appeared in Japan too on Angel Records (OW1005) as a 10″ record with a different cover but the same gatefold typical for early 1950s – mid 1960s record covers. See here for the full story: http://tangoteca.all2all.org/Pugliese-Lefcovich/index.html
This time we included the Apple Lossless file format as an option and respected a strict 0.5 seconds lead-in silence on all tracks. The transfer has been done on our laser record player. To clarify, this device, in contrast to CD-players, is a purely analog device, build-to-order for Tango Time Travel by a small electronic manufacture in Japan. We already used the laser record player for some of our recent Juan D'Arienzo transfers.